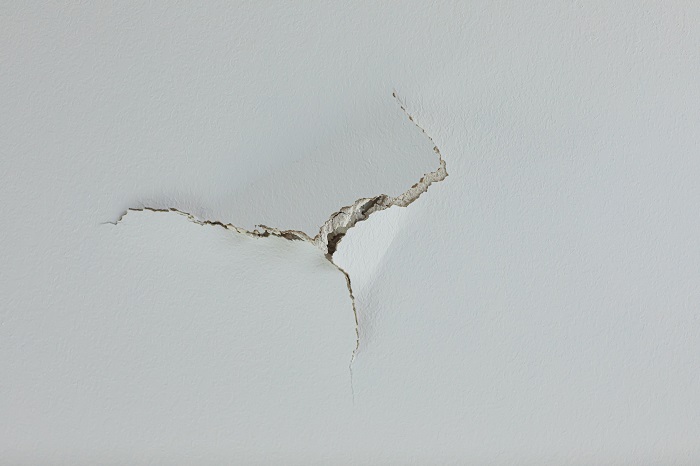 A Painters Guide Fixing Holes in Gyprock Ceilings and Walls…
Gyprock or more commonly known as plasterboard is a material that is used to construct ceilings and design walls of houses today. You'll hear Gyprock also being called drywall (USA) or gypsum board, it is the preferred interior building material for ceiling and walls because it is easy to cut and has a smooth surface that is perfect for painting or wallpapering.
However, as beautiful as Gyprock/Plasterboard ceilings and walls are, they're not immune to wear and tear unavoidable holes, and cracks that may require a handyman's attention (if you don't have a lot of time to spare). If you do have some time on your hands, hold off on calling your local handyman.
Instead, keep reading our guide to fixing holes in Gyprock/Plasterboard ceilings and save money at the same time. With the right tools, a little time invested, and our great pointers, your ceiling or wall will be back in tip-top condition in no time.
The Right Tools for The Job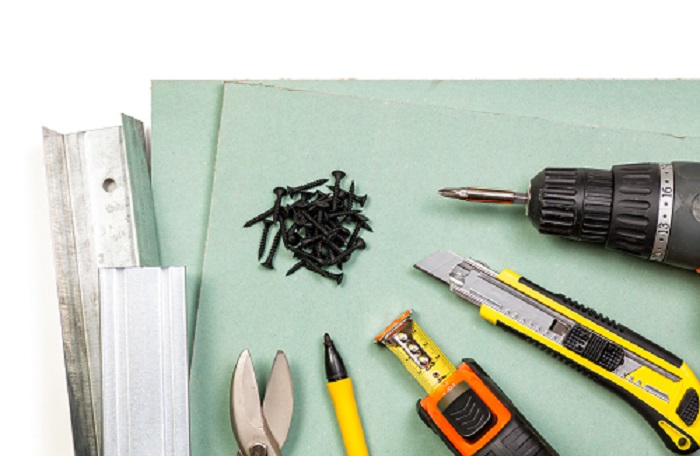 Fixing holes in your plasterboard ceiling or wall is pretty straight forward but you'll need some tools to get it done right. The tools required are:
Utility Knife or Hand Saw
Topcoat Compound
Adhesive
Ceiling Texture Scraper
Gloves
Goggles
Safety mask
Tape Measure
Drill and Plaster Screws
Depending on the extent of damage to your ceilings and walls, these tools will come in handy, you will find all of them at your nearby hardware store if you don't already have them in your tool shed.
Examine the Damage
A Painters Guide Fixing Holes in Gyprock Ceilings and Walls.
Before you start, the hole or crack must be examined to assess the extent of the damage, and measuring the size of the hole or crack will help determine exactly what material you will need for repairs.
Wearing safety equipment like goggles and a mask is advised when doing repairs like this yourself. The size of the damage is important because larger holes require more time and tools like filler pieces to fix. This makes getting an accurate measurement of the diameter of the hole a vital part of the repair process.
Fill the Hole with a Filler or Plasterboard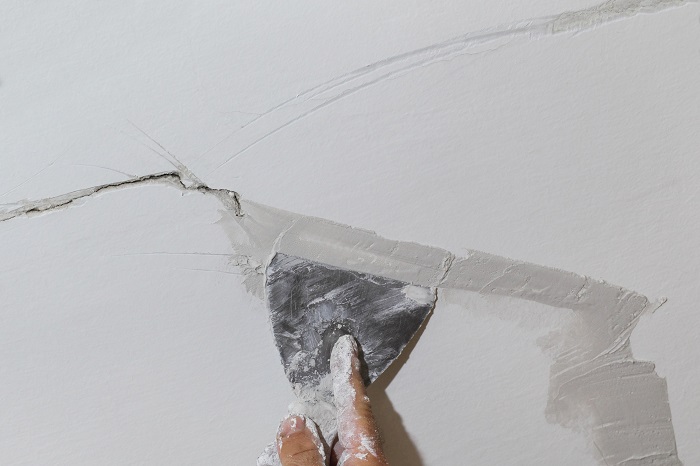 Once the size of the hole has been examined, cut away any jagged edges with a hand saw or utility knife this will make it easier to patch. Next comes filling it up with a type of filler depending on the size of the hole or crack for smaller holes or cracks a topcoat compound would be ideal. Plasterboard offcuts are suited to larger holes and offcuts can be cut and measured to fill the opening. An important requirement here is that the filler used has to be just a little bit thinner than the opening to allow for a second layer of plasterboard to be added that will sit flush to your surface. Once a filler of the proper dimensions has been created, it has to be attached to the hole with plaster screws (if you have some) or adhesive so it stays in place.
Screw Drywall in and Apply Topcoat Compound
A precisely cut piece of plasterboard is often screwed on top wood or your chosen filler piece. This is done before a coat of plasterboard topcoat is added to the opening to fill the remaining gaps. Once the compound is dry, if required you may need to add another layer of the compound, sand the topcoat compound with fine sandpaper before the addition of primer and paint as the final touches of your restoration. Both the plasterboard compound and plasterboard offcuts can be bought at a home hardware store.
Complete the Restoration with a Coat of Paint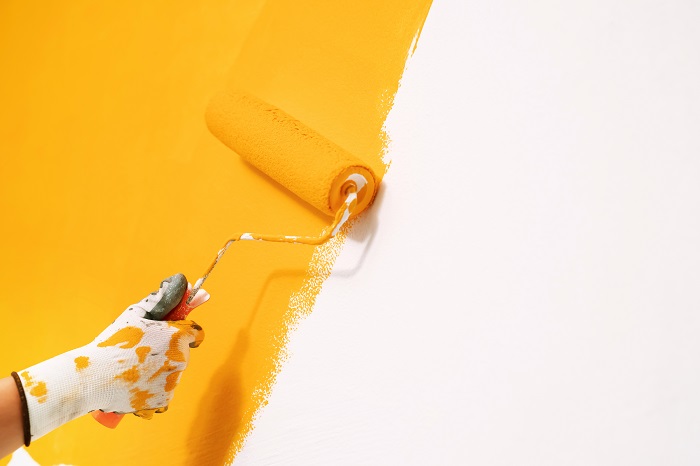 Restoring your Gyprock/Plasterboard ceilings and walls is only complete after the final coat of paint is applied. Now that you've fixed the damage to your walls or ceiling, it might be the right time for a new coat of interior paint, think fresh color schemes and pallets.
If you don't have the time to spare and want the job done professionally call us at Painting Trends. Our specialist interior painters work with your preferences to efficiently provide a precise and professional finish to your home's interior.
Please follow and like us: